Missouri Botanical Gardens – Chinese Garden
Missouri Botanical Gardens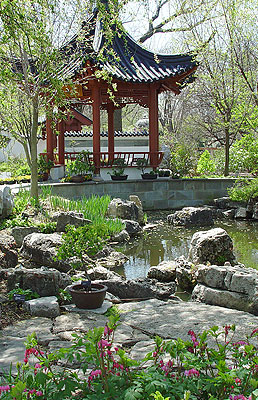 – Chinese Garden is considered the most authentic "scholar's garden" of its size in the United States.
A showplace of extraordinary craftsmanship, the Chinese garden at Missouri Botanical Gardens pleases visitors with its graceful architecture which includes a pavilion of traditional black, white and gray, and a hand-carved white marble bridge with a narrow mountain stream that feeds into a central pool in the heart of the Garden.
It is often said that a Chinese garden is built, not planted. The architectural elements were designed and built by Chinese artisans in Nanjing, China using the traditional colors indicative of a southern Chinese Garden: black, white, gray and reddish brown for the different elements such as the walls, pavilion, bridges, and blue stone pavings with their exquisite mosaic designs. The pavilion, marble bridge and marble balustrade were painstakingly reconstructed at the Missouri Botanical Gardens during the summer of 1996, under the watchful eye of five experts from the Nanjing Municipal Bureau of Urban Parks and Open Space Administration. The Garden commemorates the longstanding scientific and cultural exchanges between the Missouri Botanical Gardens and Chinese botanical institutions, and honors the sister city relationship between St. Louis, Mo. and Nanjing, China.
Capacity
Standing: 25 Guests
Facility Rental
The Chinese Garden is available at
11 a.m., 1 p.m. and 3 p.m.
The Chinese Garden rents for $450.
For a wedding officiant call…. 314 472-5017     Wedding Officiant
Catering St. Louis is the Garden's exclusive caterer. For more information, please visit cateringstlouis.com or call (314) 577-0200.
Check us out on FACEBOOK    https://www.facebook.com/StLouisWeddingChapel